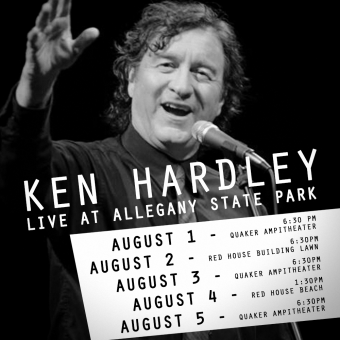 Live At Allegany State Park
Starts from: 01am31UTC_f1970Thu, 01 Jan 1970 00:00:00 +000001am31
Allegany State Park, Salamanca, NY 14779
August 1 – Quaker Ampitheater
August 2 – Red House Building Lawn
August 3 – Quaker Ampitheater
August 4 – Red House Beach
August 5 – Quaker Ampitheater
Ken gets around. Solo. With the band, The Moose Club. And everything in between. Every show is a unique experience.
Ken Hardley is a musician, entertainer, and socialite. As a solo musician he creates a wry, edgy, warm, funny, unpredictable, cerebral atmosphere, offering a wide range of styles and genres.
The Moose Club is comprised Of Ken (guitar, banjo, harmonica), Matt Gronquist (mandolin, accordian, fiddle), Jay Peterson (bass), John McGuire (drums), and sometimes 10,000 Maniacs guitarist Jeff Erickson. A rock/bluegrass jam band, these guys have collectively mastered ambience, groove, and energy in a way that makes every show a little festival.
Booking Ken or The Moose Club is easy. Email info@KenHardley.com, call (716) 640-8746, or fill out the form at the bottom of this page. Price varies depending on distance, artist mood, and other factors.