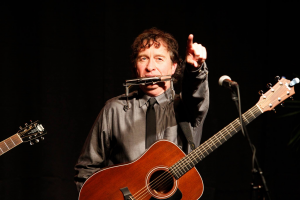 Rolling Hills Radio, a creation of producer/host Ken Hardley, is an ongoing series featuring live musical performances from local, regional, national and internationally recognized artists exploring, celebrating, and performing grassroots American music. It is recorded in front of a live audience, combining the ambience of a radio show from the middle of the last century with the intimate appeal of a studio setting. This series of live musical performances is recorded and broadcast over community radio station WRFA-LP 107.9 in Jamestown and available as a streaming podcast around the world at WRFA-LP.
The Chautauqua County Chamber of Commerce is proud to partner with Rolling Hills Radio.
Funded in part by the New York State Council on the Arts Decentralization Regrant Program with support from the New York State Legislature and Governor Andrew Cuomo and administered by the Cattaraugus County Arts Council
URBAN PIONEERS AND GOODHUE & VANDENBERG
MARCH 26, 2018 at 6:30 pm
Ken Hardley will be hosting Rolling Hills Radio Show featuring artists The Urban Pioneers and Vandenberg & Goodhue including a meet and greet after the performance. We all look forward to meeting you!
Traveling near and far, The Urban Pioneers are a trio of road warriors that spend their lives playing music to please anyone anywhere.
Nick Vandenberg is a multi instrumentalist/composer and video producer based in Chapel Hill, NC. Geoff Goodhue is a well-known journeyman musician who appears often on Mountain Stage and plays regularly with such notables as autoharp legend Bryan Bowers.