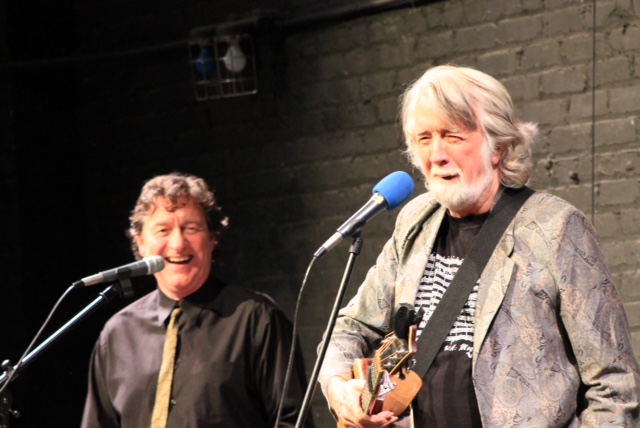 People of a certain generation remember John McEuen with respect and even awe. He is an integral part of our musical Americana DNA. Nitty Gritty Dirt Band. Will the Circle be Unbroken. Multi- Grammy winner. And on and on.
But enough of context. He has released a new album and it's hard to know where to start, or stop talking about it.  It's called "Made in Brooklyn."  John seems to have been blessed with an eclectic musical sensibility that allows him to not only be the master of several instruments, but to seamlessly move from style to style. Here you'll find bluegrass, New Orleans blues, country, gospel, and more. But McEuen is no faceless, formulaic studio musician. As always, each song is distinctly McEuenized, a very good thing.
Much has been made of the great musicians McEuen brought in to play on this album. I mean, we're talking Jay Unger, Molly Mason, Martha Redbone, John Carter Cash, Steve Martin, Andy Goessling, David freaking Amram (!) and more. But David Bromberg is worth the price of admission. I admit to a weakness for Bromberg's art, himself an astounding multi-instrumentalist. There is no guitarist I'd rather hear a solo from, regardless of the type of song he is handed. And on this work, John Mceuen showed his customary good sense to take best advantage of the talent surrounding him. You'll hear Bromberg doing his deftly mischievous bluegrass, his heart-torturing blues, and some lovely work on a Telecaster.
And although McEuen never hogs the spotlight, one of his most endearing qualities because he certainly could hog to great effect, you'll hear some highly tasteful guitar work as well as his trademark banjo sounds. Not only does every note John McEuen play somehow bear his stylistic stamp, but his first rate performances are a workshop for budding musicians. You want to get good on banjo? Learn John McEuen parts. Then listen to guitar and mandolin and… This guy does everything right.
"Made in Brooklyn" works on lots of levels. You want to hear outstanding musicianship? It's here. Legendary musicians brought together? Masterfully inspired interpretations of familiar songs? Intimate, friendly ambiance and warm sound? It's all here. This is a work of art that is very much worth 65 minutes of your time every time you listen to it from beginning to end. But make no mistake, every single track stands on its own so listen to it any way you want. But whatever you do, do listen. You'll keep coming back to it. It's wearing out my speakers.
Maybe we ought to have him back one of these days.