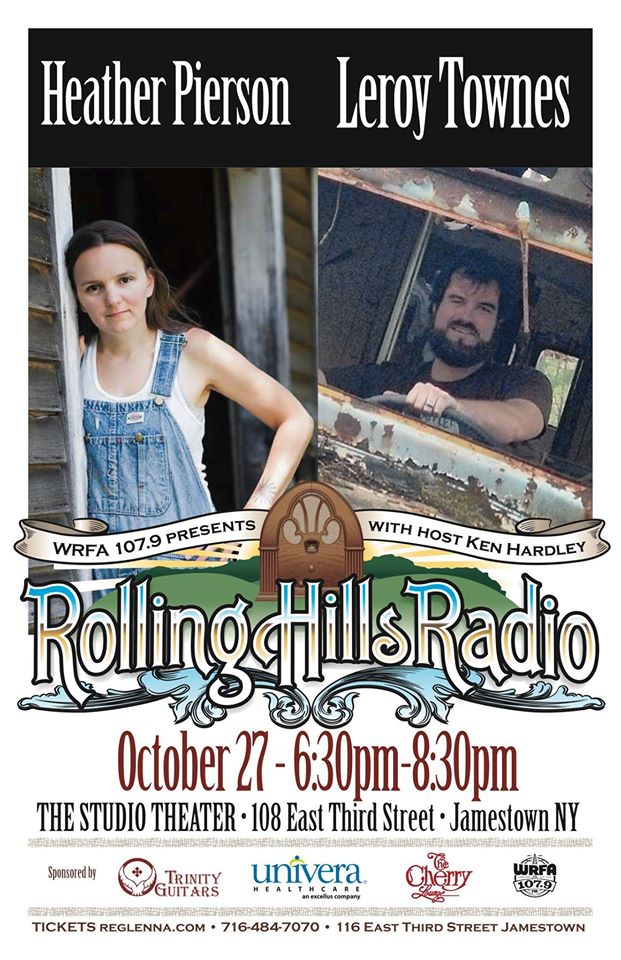 Rolling Hills Episode 57, recorded in October 2016, is in the books. Podcasted for all of eternity. You can hear it here. http://www.wrfalp.com/listen-rolling-hills-radio-ep-57-heather-pierson-and-leroy-townes/
The first time I heard Prairie Home Companion with Garrison Keillor, I was transfixed as I visualized what I was hearing, just like my grandparents did. I also remember when MTV first appeared long ago. There were these things, music videos they were called, and some people complained that the videos interfered with their enjoyment of the music. I recall one friend saying he thought of stuff during songs and he didn't need some corporate marketing guy dictating to him what he was supposed to be thinking about. Music videos kind of went the way of the Studebaker and the continuing popularity of radio might suggest that people still like the aural experience all by itself.
But then, there is the live show. The people sitting next to you. The sights and the smells. The instruments and voices. The interaction with the artists.
Live, the energy onstage varies from one show to the next, much depending on the guests. Episode 57, for instance. Sharing the stage with a guy like Leroy Townes is standing next to a real pro. He is clearly a master of his music, his knowledge, and his art. Leroy presents himself as quiet and contained, but that demeanor abruptly morphs into a bristling intellect and significant artist as soon as he starts talking or playing. Leroy embodies a quality that I've noticed in other great artists, the ability to relate, entertain, and engage in an almost effortless way. I think maybe musicians like Leroy have the art deep within and the music is just one way it manifests. Onstage his energy, enhanced by the tight, sweet harmonies of his partner Loretta Mayfield, was a presence of something very real.
Heather Pierson has a similarly unprepossessing presentation. She kind of makes fun of herself as a "good girl" in a song, and I suppose there's a bit of that vibe about her. Each song has an unwavering maturity, which is part of what sets Heather apart. Her musical observations are a compelling combination of insight and love. She seems to be an extraordinarily well-centered woman, leading one to wonder about from where this muse springs. I mean, aren't artists filled with angst, neuroses, and unresolved issues? Start with a heart full of great melodies. Every Heather Pierson song is a wonderfully tuneful creation. Then add a penchant for putting the right lyrics with those tunes in a variety of styles, and in an evening with Heather onstage you have a pleasant and comfortable, yet beautifully unpredictable, journey.
Maybe we'll see you at the next show.
Yer Friend,
Ken